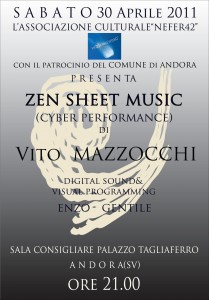 30 aprile 2011 – Andora (SV) – Palazzo Tagliaferri – Performance Zen Sheet Music (Cyber Performance) di Vito Mazzocchi.
Sound design & Visual Programming by Enzo Gentile (guitar to midi and visual real time conversion).
Hardware: Sonuus MusicPort, Midi port – Software created with Processing
L'articolo su Passione Teatro.
L'intervista a Vito Mazzocchi ed Enzo Gentile.
Il video: