ORIGINS
In 2014, a group of italian multimedia experts proposed a project in the field of interaction design. The Original Team developping it consisted of:
Enzo Gentile and Paolo Servi (Anughea Studios – interaction designers / IT and multimedia specialists).
Lianne Ceelen-Montaleone (Expert in EU project development);
LABA ("Libera Accademia di Belle Arti") in Brescia (Academy Director Roberto Dolzanelli, A.D. Manager Alessandra Giappi, Project Manager Massimo Balestrini, Art Director Andrea Gentili supported their plan becoming Lead partner of the project.
DESCRIPTION
ViSet was born for creating and promoting virtual sets for the performing arts.
PARTNERS
The project takes place in 4 countries: Italy, Serbia, Spain and UK. In these countries, the following organisations cooperate to achieve the objectives of the I AM project:
Lead Partner is LABA ("Libera Accademia di Belle Arti") in Brescia (Italy) coordinates workshops, monitoring & evaluation;
Kulturanova in Novi Sad (Serbia) is the action coordinator for festivals;
FAM in Novi Sad (Serbia) coordinates the networking;
KonicLab in Barcelona (Spain) is responsible for coordinating co-production activities;
Pacific Stream in Liverpool (UK) is the action coordinator for National performances, communication and dissemination:
All partners will provide expertise in creative and/or technical side.
1. Objectives
The general objective of the ViSet project is to promote the use of advanced digital technologies in various art forms and various cultural circumstances, to demonstrate the many social, economic, commercial and cultural advantages of these technologies for the arts. ViSet will do so by promoting the use of virtual stage sets, including the use of interactive technologies, Virtual and Augmented Reality and remote-controlled applications, in performing arts. ViSet will do so by creating a network of cultural operators capable of using new technologies for the performing arts ("providers") linked in an online community with interested stakeholders such as festival organisers and theatres ("users").
2. Target groups
The target groups are divided into two main groups: providers and users of new technologies for the performing arts.
Providers: cultural operators that work, or want to work, in the experimental field of art & tech (addressed in co-producing, training, networking and capacity building).
Users: the general audience as well as the cultural operators that organise and/or finance art events (addressed in performances and festivals, audience and market development).
The main target group for audience development are young people (approx. 16-25 year olds). High schools, technical schools, universities and art academies will form an important target, allowing to reach these young people, both as audiences at performances and as potential new providers of the new technologies receiving training at the workshops
The target for market development actions are traditional theatres and performing arts companies, cultural centres and arts platforms (to be reached directly and through existing festivals).
3. Methodology and strategy of actions
The methodology uses demonstration as its main instrument to convince stakeholders by bringing the performances to potential new audiences and new markets ("seeing is believing"). It is further based on direct and practical involvement of experts of the technologies in workshops and co-production ("learning by doing").
The methodology further works on a simple supply and demand basis, by integrating into all the actions the market and audience perspective and by bearing in mind that each action should have an impact on both the main target groups.
Communication, dissemination and networking is given much attention in order to multiply the potential market for new technologies in the performing arts during but also after project implementation.
ACTIONS
Timing and contents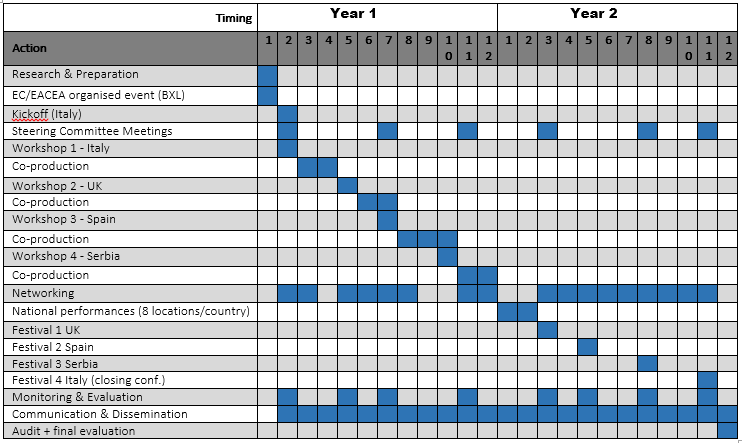 We aim to develop a linear, clearly structured project over 2 years: year 1 sees preparation, training for technical and creative capacity building and co-production of a performance in each of the 4 countries, year 2 then moves to demonstration, audience and market development.
The first year starts with a short research phase in which partners examine locations and performances to be used. Research will provide details on technical abilities (which partners have in-house or can attract locally) as well as technical wishes for their performances (for which they will require co-production assistance from one or more project partners): explore creative possibilities and match them with technical feasibility.
Performances: preferably performances which are already known to artists, have already been rehearsed and/or performed by artists so as to invest less in the creation of new materials and more on the creative and technical integration of new media technologies in the stage sets. Preferably performances which require only one or two artists (actors, dancers, singers) so as to demonstrate the power of these technologies in as broad a geographic area as possible without burdening the budget with significant travel costs.
Locations for performances: must have high potential for audience development, i.e. for attracting "new audience" in particular young people. The audience must be facilitated (i.e. the performance comes to them rather than vice versa): for example outdoors in public squares, in high schools, universities, art academies, lobbies of public buildings, … .
This one-month phase will precede the first project meeting in order to arrive at project kickoff with sufficient materials for peer review, in order to decide on four demonstration performances which showcase a range of different technical possibilities. This also allows for a better focus of the contents of the first project workshop, which is held immediately subsequent and in the same location as kickoff.
Workshops are then held throughout year 1 at approximate 3-month intervals. A workshop will be hosted in each of the four countries of the project partners. They will combine a technical segment and a creative segment. The Partnership's technical and creative experts will attend as teachers and/or trainees (3 persons per partner country). Specialised local teachers will also be attracted from affiliated institutes and associated partners. Each 4-day workshop will start with an overview of the numerous technological possibilities, so as to give all local participants an opportunity to build capacity and interest for the further use of these technologies in their region (students of universities and art academies in the region, SMEs and freelance professionals). In line with the different technologies used for the performance of the hosting country, more in depth training will then be given on a chosen technology and type of application. Care will be taken so that the performances cover a range of technologies so that operators in the partnership receive a comprehensive training.
The case-study of the specific performance being developed in each country will serve as a basis for practical exercises and will furthermore help partners to advance with each workshop in the co-production of each country's performance, assisting in the solving of technical problems and providing peer review on the creative and technical choices made.
Workshops will address for example:
Video mapping / architectural mapping (2D and 3D projections onto 3D objects and buildings, "mapped" by specific software and combined with sound and light effects)
Virtual reconstructions (Augmented reality approaches and instruments);
Installations using interactive technologies and motion-tracking. The set can for example "interact" in real-time with the actions of actors and dancers and/or (depending on the needs of the specific performance) with the actions of the public. Digital responses triggered by voices, sounds, colours movements and postures. Experiments with audience digital feedback influencing performance (narrative) outcome.
Remote-controlling of interaction dynamics, interaction through tablet and smartphones. Such control allows for the participation of people in different locations, not necessarily in the vicinity of the main stage, through internet connections and use of suitable data transfer protocols such as MIDI, OSC, DMX, HTTP, FTP etc, integrating individual skills (acting, dance, music, marketing, directing, lighting) over large geographic networks.
In between workshops, partners work in a system of co-production with each country progressing on the development of its performance and virtual stage set with the assistance of technical experts from the partner countries. Performances and their virtual sets are to be completed by the end of the first project year.
Year two starts of with the implementation of performances in the countries and regions of each project partner. We aim to have five shows of the developed performance per country, potentially in five different locations in the city, region, country of the respective project partner.
Performances will take place in strategic locations for audience development, to bring the modernised performing arts to the attention of young people. Audience development will be aided by specific communication messages and channels (highlighting the high-tech, young, spontaneous and modern side of the art performances and extensively using social media, facebook, twitter and youtube).
Subsequently, market development actions are based firstly on the implementation of four small festivals, i.e. a tour of the four prepared performances and their virtual sets to each of the four countries directly participating in the project: Italy, UK, Spain, Serbia. Besides being an obvious tool for audience development, similar to the national performances preceding the festivals, the potential for market development will be enhanced in the side-events of the festival programmes. There will be result dissemination events such as for example press conference, round table discussions on art&tech, meet & greet events between technical, creative and managerial minds, between audience and organisers, between the "providers" and the "users" of the new technologies for the production of art performances.
A second component of market development regards the promotion of these new technologies – through the example of our four performances – to interested "users" outside of our immediate geographic area. For this purpose the channel of choice is that of existing third-party festivals, which regroup a large number of relevant stakeholders in one place. Two types of festivals will be approached: the traditional theatre and performing arts festivals and those festivals which focus specifically on art and technology. Communication and dissemination actions aimed at the participants and organisers will ensure the cultural operators present at these festivals have a chance to see the potential of the different technologies in our four performances.
RELATED POSTS:
Liverpool (UK): European Project "Creative Europe" ViSet meeting
Sremski Karlovci (SERBIA): Virtual Set Design Project Meeting and Workshop
https://enzogentile.it/2016/03/16/second-test-for-final-show-viset-project-laba-brescia/